Group art games: Color Mixing, task box, musical chairs painting & art observation
Fourth graders participated in a unit of four classes on collaborative art games.  The first of these was color mixing using color chips I painted and gave to them so they could make that color on teams.  They chose the teammate closest to the paint chip to try to go for the class win. I showed them tertiary colors on the color wheel and how to mix them, but I left a lot up to them to discover exactly how to do this.
color mixing game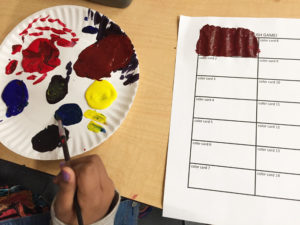 musical chairs painting
The second game was musical chairs painting, but instead of taking a chair away, we left all chairs in the room and when the music started they walked or danced around until it stopped, and then found a seat other than their own.  Finally, during the last round they returned to their seats to use the Element of Art of unity to complete and resolve their work.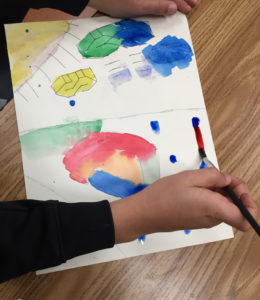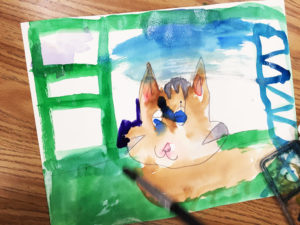 Completed Examples
I asked them to write down how they used unity in their final pieces as a way to asses them.
Task box
The students watched a video on Oliver Herring, a social practice artist, who designs task parties around the world.  Each participant places a task in a box for someone else to blindly choose and interpret for a piece of art.  When the person is done with the task, they put another task back in to keep it moving.  In our class, fourth graders wrote tasks involving painting and drawing for their peers and had a great time!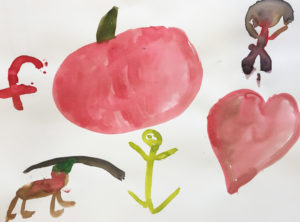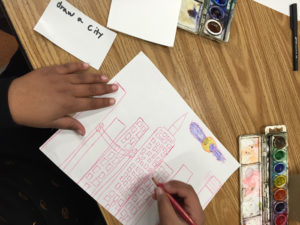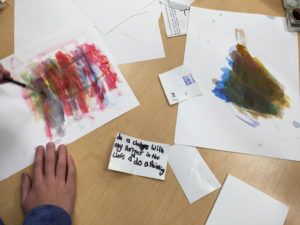 Art Observation game
The final round of games involved art observation by having one student from each team hide a piece of art from their peers and try to describe it to them.  The other students would try to draw or paint an image of the description.  The person closest to the original image would be chosen by the team and then go to the final round where I had them vote on the winner.