Art observation
In grades, 3-5th in spring 2021, the kids played a few art games to get acclimated to school after being in distance learning so long. I had them play an art observation game where I chose a few Black artists like Alma Thomas and Virginia Chihota as well as Asian American artist, Yayoi Kusama, in order to have one person on each team describe the painting and the rest of the team try to paint what they hear. They competed against each other for points and had fun.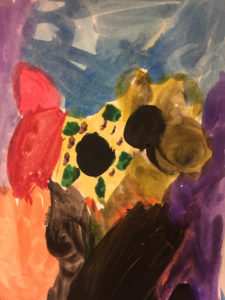 task box
This activity is based on Oliver Herring's Task art project which involves audience in a form of social practice art.  Instead of performance art where the artist is the main focus and actor, Herring includes people as his raw materials, where they generate ideas for his work in the form of art parties where people are asked to make a task for others to do and carry out.
I asked the kids to make up drawing prompts for each other to do such as: draw a house that changes into something else, draw yourself performing on a stage and draw a loving wolf. This student-centered art project really involves the kids in creative ideas! They love it.